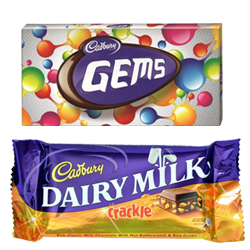 • Free Shipping
• Assured Delivery
• Safe Shopping
• 24x7 Customer Support
A beautiful gift of a Pack of Cadbury Gems ( 27.50 Gms.) and a pack of Crackle Chocolates ( 42 Gms.) from Cadburys. Celebrate a cute n sweet.

Next Available Delivery Date : 15th April


Delivery Time: 2-3 Working Days Depending on Locations.
error '80020009'
/similar_product_include.asp, line 25